WDM Team Volunteers with Rebuilding Together Seattle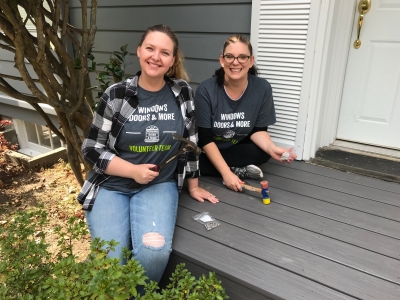 This month, Windows, Doors & More had the opportunity to partner once again with the Seattle chapter of Rebuilding Together. A local organization that pairs businesses with homeowners in need in order to provide "safe and healthy housing for low-income homeowners by completing home repairs free of charge to those served."
Our talented staff of volunteers took their weekend to complete a number of in process and incomplete home repair projects for a mother, daughter, and granddaughter to be comfortable throughout the coming winter season in their shared home.
Jobs from window and glass replacement, to entryway upgrades were completed. Our lead installer and Service Manager, Nick, is shown here leading the way to change out two failed windows to meet egress and safety needs in the new bedrooms. Egress is an important factor when considering safety in bedrooms. Previously, this was a stationary window, not safe in the event of a fire or other emergency. With the new Milgard casement window, the window will be operable from the inside, yet remain safe and inoperable from the exterior of the home. Both important factors for the homeowners.
A BIG thank you to our friends and industry partners at Milgard Windows and Doors for helping us supply these brand new Trinsic™ Series casement, sliding, and awning windows for this project.
Another major task completed by our team was the removal and replacement of a secondary exterior entry door in an updated living space on the side of the home. Task masters, John and Dave, are shown above working on removing the old door.
The "before" was an original 1920's wooden door with minimal locking hardware and single pane glass front. Not safe, nor weather resistant. The frame was rotten in the cinder opening, and the door lacked a sill, another important aspect of a weather tight door system. Our team replaced the framing and the door, to ensure a new (and weather tight) fit, complete with door flashing, sill, and updated trim.
Again, our industry partners really pulled through, and helped us by ordering a custom sized (we need a smaller size for the 1920's opening) fiberglass entry door by Therma Tru. A big thank you to OrePac Building Products for delivering this one again, right on budget and in plenty of time for our volunteer day.
Lastly, this project and others like it, wouldn't be possible without the hard work of the amazing Windows, Doors & More family. The people of Windows, Doors & More make this company one in a million. Thank you all!
---
To learn more about this, and other projects, visit http://www.rtseattle.org/