Thermal Steel Doors & Windows | Lunch & Learn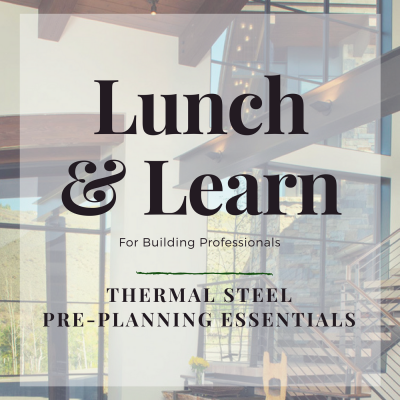 Home Design Professionals | You are invited to join us with leading industry product experts from Arcadia Custom to discover what you need to know to incorporate today's steel window and door styling into your next project.
Learn the pre-planning essentials for a successful design and implementation. See installation details and techniques, what to expect and plan for, options and availability.
About Arcadia Custom:
Arcadia Custom's Thermal Steel Technology was fueled by the need to produce a Steel Window and Door that would meet the ever increasingly stringent Energy Efficiency Building Codes of today and tomorrow, while not losing any of the "classic-timeless" aesthetics that steel windows and doors have become known for.
Thermal Steel is a unique patented process utilizing modern materials and state-of-the-art computerized machinery that produces the most precise, energy efficient steel window and door on the market today.
Make sure you are in the know, and have all of the information to incorporate these designs and materials into your next custom home project.
Bring your questions, your plans, and your ideas to discuss your design options with our team.
---
Lunch & Learn Details
Date:
Wednesday, October 18th | 2017
Time:
11:30am - 1:00pm + Q&A
*Space is limited. Please RSVP HERE or email marketing@windowshowroom.com