Summertime Entertaining with Doors & Windows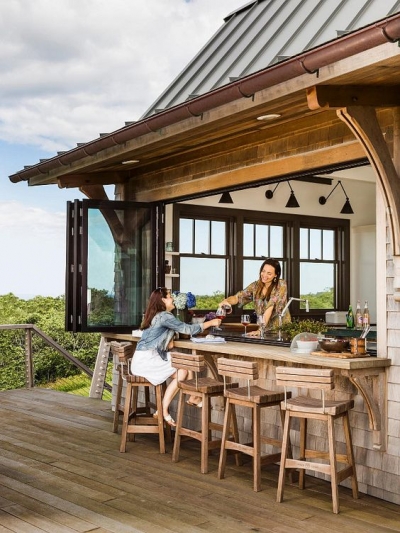 When it comes to summertime entertaining, doors and windows can be a big part of your plans. Homes that utilize a design to create spaces to open up and blend rooms with the out of doors add to the experience of a home, and a great party.
This is the time of year that reminds many Pacific Northwest residents just exactly why they call it 'home'.
Large doors that can fold open, pocket to one side or another, or have panels that stack, have gained immense popularity over recent years and are a main "wow factor" in many homes.  These doors essentially become a 'movable wall' allowing what was two spaces to be one, with open clearings and spans ranging anywhere from ten feet in width to over 25 feet.
With this kind of flexibility and openness within a kitchen/ dining area and an outdoor sitting area or patio for example, guests can fully and easily move about and interact with the environment.
Windows can also be integrated to make an ultimate indoor/ outdoor entertaining space! Pass through windows, bi-folding panels that move to the side connect indoor and outdoor kitchens flawlessly, and the counter tops flow beyond where a wall would be to an outdoor counter as well.
* Images Sourced From Pinterest
Windows, Doors & More carries multiple brands of doors and windows that can make your dream summertime entertaining area, a reality.
For more inspiration and ideas check out the following brands to have your own customized space:
---
We would love to learn about your home's entertaining space, and how doors and windows could enhance your home's design.
Contact our friendly and knowledgeable sales staff for further information and pricing. 
Seattle Showroom (206) 782-1011
info@windowshowroom.com