Choosing the Best Fiberglass Door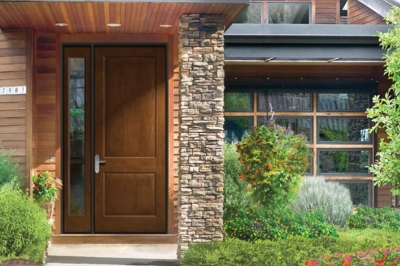 It has been said that "Home begins at the door."
That is certainly 'true' when considering 'Therma-Tru' Doors for your entry, patio, or side exterior door.
Since 1962, Therma-Tru Doors has been crafting entryways for residential and multi-family spaces.  In 1983, they further evolved and revolutionized Fiberglass entry door options.
Combining features and standards such as ease of use, practicality, affordability, and style, Therma-Tru is a tried and 'true' door brand. Pardon the pun...(again). 
One of the standout offerings from Therma-Tru is their AccuGrain Technology; fiberglass doors that are made to resemble real wood. With this patented graining process, Therma-Tru delivers lasting beauty and realistic wood graining unmatched in the industry.
Often times, these doors are easily mistaken for a real wood door.  The benefits of having a fiberglass entry door in the Pacific Northwest are numerable.  For one, they are low maintenance, can be stained the same color as other wood details in the home, and are long lasting when exposed to the elements (think water. ie. boats are often made out of fiberglass). And we all know we have plenty of water in the Pacific Northwest.
And that is just the beginning of the features and benefits that Therma-Tru Doors offer. Some of the brand's top qualities you may see right away, other attributes might be a little less obvious, yet still make a considerable difference.
Take for example, the proportions and panel dimensions of a Therma-Tru door.  Again, this is inline with a close resemblance to real wood stile and rail door.  By using broader lines, and designs, the Therma-Tru panels look richer, more stylized, and appealing.
Another attribute that is less subtle to the eye is the option for added security and performance with Therma-Tru's Multi- Point Locking System.
By upgrading to an integrated hardware locking system, your Therma-Tru door will be locked into it's frame in 'multiple' critical places.  Often times wood doors, and many entry door for that matter, are only locked into the frame by the hinges, and 1 deadbolt lock, or latch.  These are a weak point on the frame, and can be a contact area that becomes vulnerable to threats against security and door performance.
Learn More
You can learn even more about Therma-Tru doors at an upcoming Lunch & Learn event at our showroom in Georgetown.  Believe it or not there is more that we didn't even cover in this blog post!
Upcoming Therma-Tru Event
Click HERE for more event details. This event is tailored to building industry professionals, such as Contractors, Designers, and Architects.